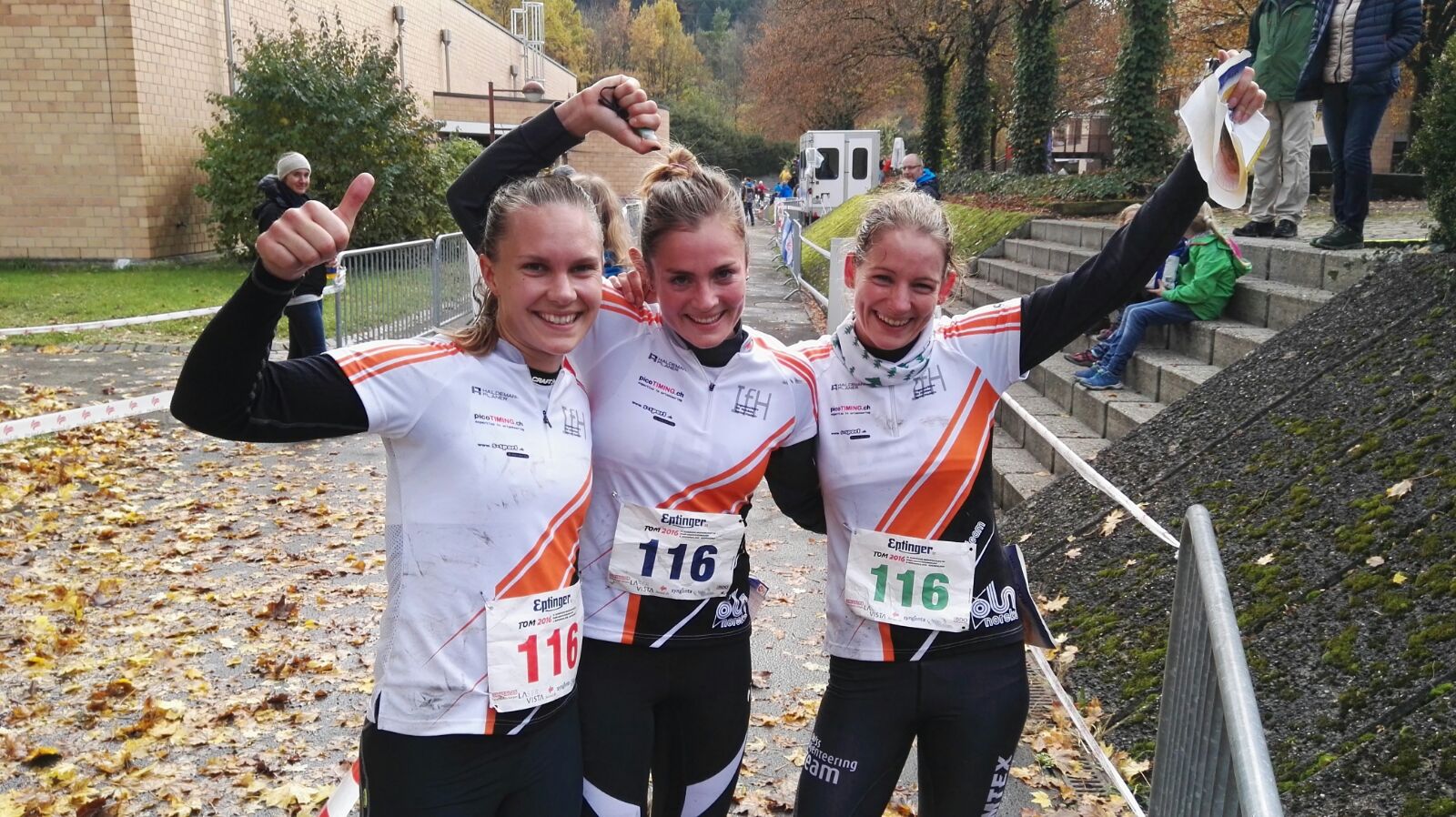 Today I could, together with Sabine Hauswirth and Sarina Jenzer, win my first swiss championship gold medal! The swiss national season was today ended with the national championships in team orienteering. In this competition form one team consists of three runners and the goal is to get one SI-card as fast as possible through the course. This year the competition was organized as a masstart which made it all even more hectic than usual. We managed the stress well, kept calm and we sticked to the plan about doing it simple. In the end we could win the competition with 4 minutes down to the next team, and we all won our first swiss championships gold medals!
We had decided that Sarina was going to be our "brain" and be the one doing the planning of the course and how to divide it between us. Sabine and I were supposed to do as Sarina told us. Since there was a masstart it was decided that I was doing the start, and that Sarina and Sabine would start planning and deciding the first part of the plan to know where to do the first change overs. So at the start signal I ran out with all the other runners from other teams also doing the start, and it was high speed directly. Since I did not know when I was going to change over to Sabine, I tried to keep calm and not push too hard. I tried to just keep with the best teams.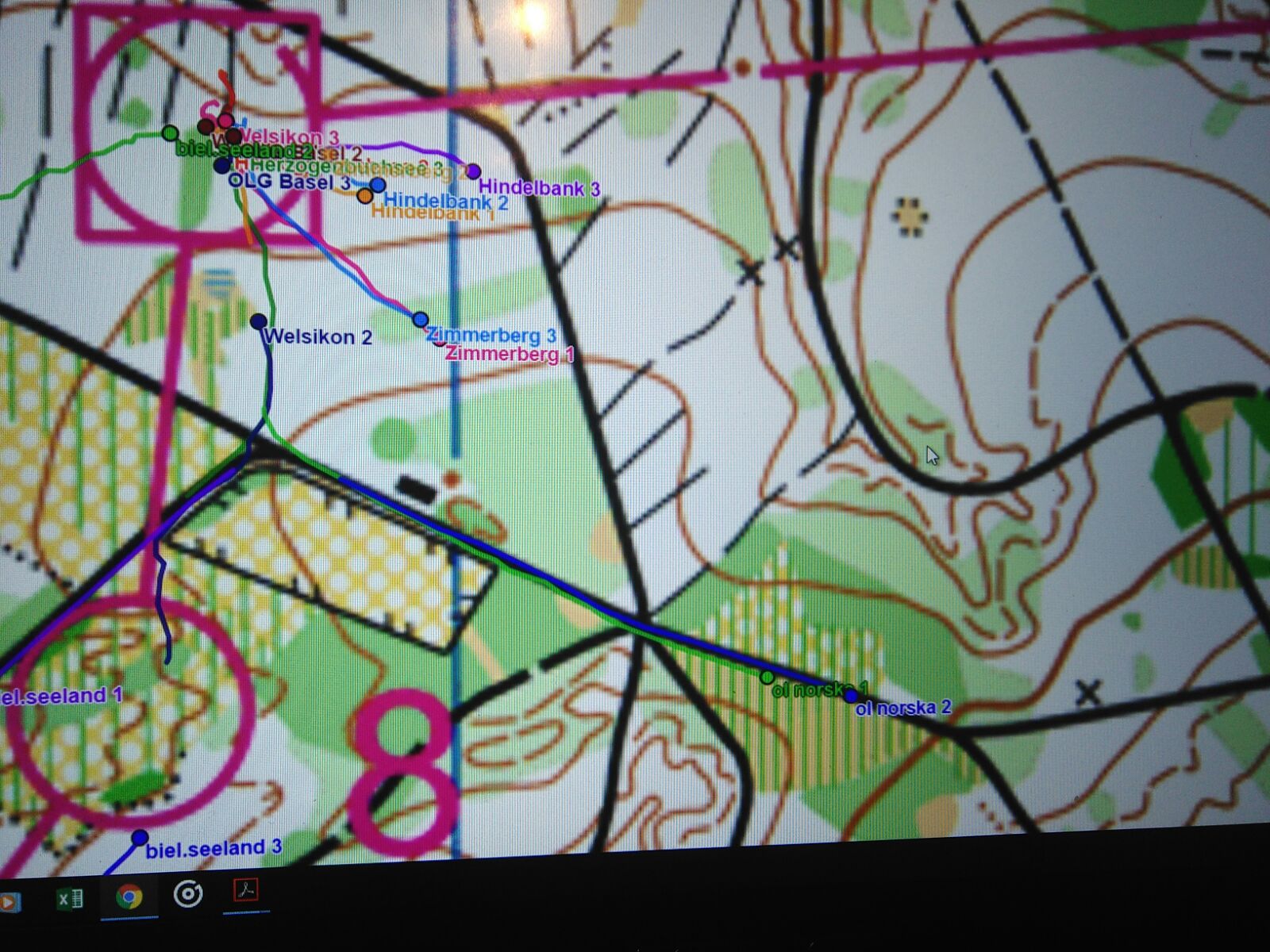 After the first mandatory control (ctr 9) we had got a small gap to the other teams.
The first change-over to Sabine was planned to be at control 2 (I did not know this), but Sabine was too late, and I continued running towards control 3. I kept together with Julia Gross (Zimmerberg) and Rahel Friedrich (Basel) and some other teams approaching control 3. No one was waitning at control 3 so we were all continuing and we started to get tired from the high speed. To control 4 Julia went around and Rahel and I went straigt. Julia got a small gap, but at control 4 Sabine was waiting for me while Julia and Rahel had to continue running. Sabine was fit and could catch up again and at control 5 Sarina took over until control 9. I ran directly from control 4 to control 9, which was mandatory for all runners in each team (had to be taken together) and waited there for the two others. Sarina could over take all other teams and came to control 9 with a small lead. I got the SI-card and ran to control 10 and 11. I knew I was first, but not really how big the gap was, so I tried to push hard on the road and be careful into the controls. At control 11 Sabine was waiting and ran 11-16. I ran directly to control 20(or 16), where I meet Sarina. We decided that I should go and wait at control 21 which was the next mandatory control. Sarina got the SI-card from Sabine at control 16 and ran 16-21. At the same time Sabine and I planed the last part of the course, and from control 21 I ran to control 22 and 23. Sabine ran from 23 to 24 and 25 and Sarina from 25 to 26 and 27. The 27th control was the last control and also mandatory, and Sabine and I therefore went straight there to wait for Sarina.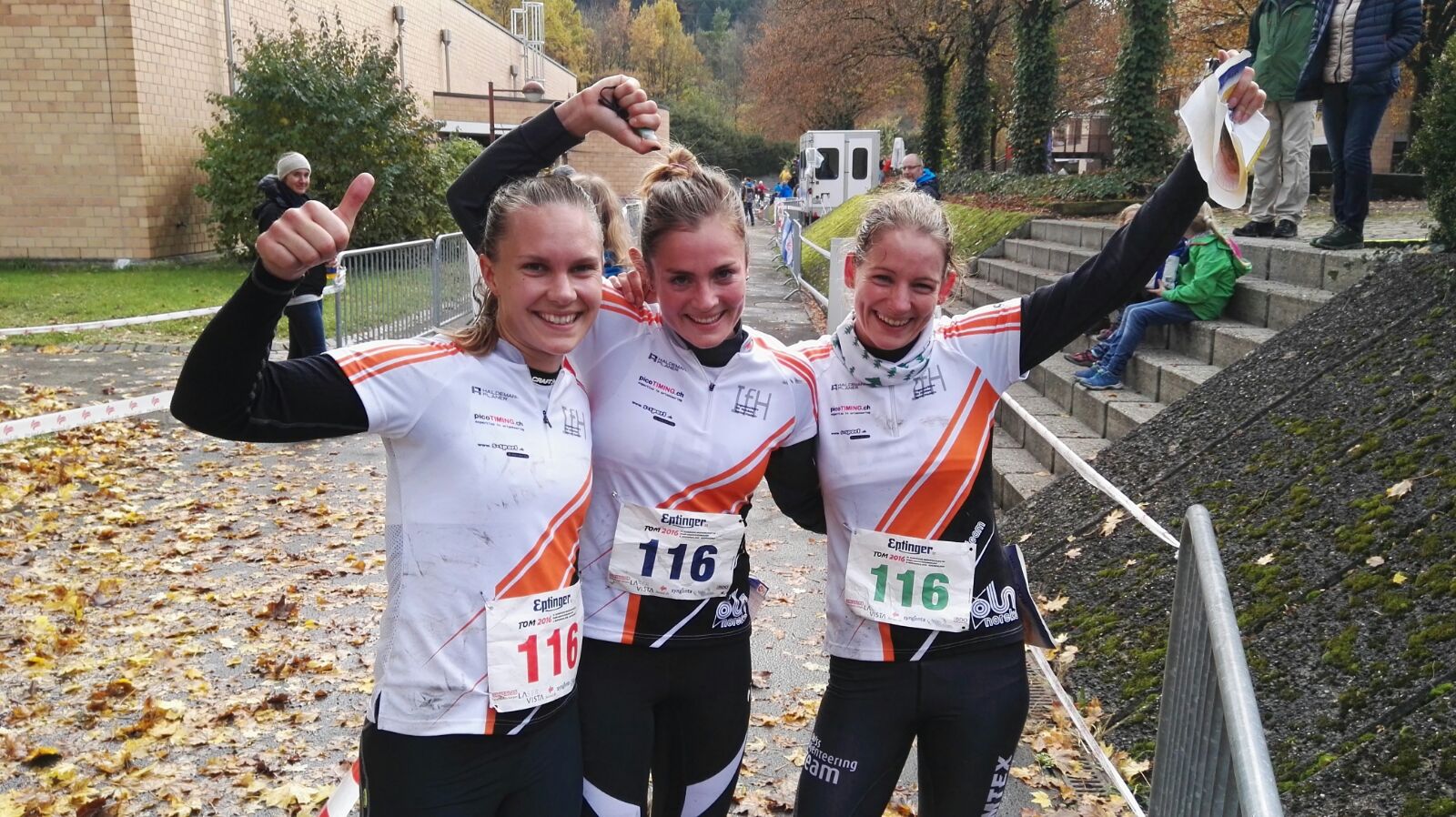 So except from the first change-over at control 2, where Sabine was too late, our plan worked out very well and we always found each other at the planed places. I think it would be possible to divide the course in even smaller parts to be even faster, but we felt it was safer not to change over too many times to keep the risks at a minimum. This was definitly my first swiss championship gold medal, but even also for Sabine and Sarina it was the first time they won the golden one. A nice end to swiss national season! To make the day perfect our mens team also won the gold medal! What a day for OL Norska and our "raskt tog team"-elite team! Thank you all!